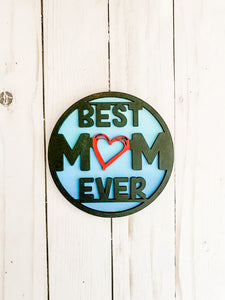 It's Mother's Day this month, so why not show it off by using your Shiplap Circle Frame? This insert fits perfect with the frame. Add it to your Shiplap Circle Frame Board Box order & be all set for Mother's Day. It's okay to give yourself the award of Best Mom Ever, promise :) This insert comes with the following:
Round backer
Small round frame with the lettering "Best Mom Ever"

**NOTE: This is NOT a finished sign! The insert comes as a raw wood project & will need to be painted & glued together. All wood pieces are laser cut from 1/4 inch high quality plywood.